Book Reviews:
The Hunger Games
by Susanne Collins(4 Stars)
Bitten & Smitten
by Michelle Rowan (3 Stars)
Delirious
by Daniel Palmer (4 Stars)
Wish
by Alexandra Bullen (4 Stars)
Covert Youth Agency
by Jason Ancona (2 Stars)
Love Overboard
by Janet Evanovich (3 Stars)
Fearless Fourteen
by Janet Evanovich (4 Stars)
The Girl Death Left Behind
by Lurlene McDaniel (4 Stars)
Love Me To Death
by Allison Brennan (4 Stars)
Finger Lickin' Fifteen
by Janet Evanovich (3 Stars)
Other Reviews:
Kindle 3
Belkin Grip Kindle 3 Case
We looked at some pretty awesome covers in our
US vs UK Cover Challenge:
Black Dagger Brotherhood Series
Wolves of Mercy Falls
Millenium Trilogy
Books 1-5 in the Stephanie Plum Series
The Hunger Games
January also saw the launch of an Author Interview's Meme where, obviously, I interview authors! This month, I spoke with:
Daniel Palmer
&
Allison Brennan
Andddddddd I posted
my first VIDEO BLOG
! Yay!
Hale & Salvatore Supernatural Must Reads,
Sinnful Books
,
Books to Brighten your Mood
, Mystifying Paranormal Reviews and
The Babbling Bookworm
were totally awesome and awarded me with
the Stylish Blogger award
! You guys ROCK!
As far as challenges go, I think I'm off to a good start! I still have a few to start yet though. Here's where I'm at:
Mystery & Suspense Challenge
: 3 of 12
Horror & Urban Fantasy Challenge
: 1 of 24
Vampire Challenge
: 3 of 20
Outdo Yourself / 100 Books in a Year Challenge
: 13 of 100
Nicholas Sparks Challenge
: 0 of 10
E-Book Challenge
: 8 of 20
Vampire Chronicles Challenge
: 0 of 10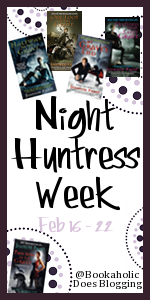 Finally ***drumroll please*** I announced that February will play host to
NIGHT HUNTRESS WEEK!
I've finished up the deets on my end and might have some pretty awesome giveaways and a game up my sleeve! YAY! I'm just waiting to hear back from one more contact and we are good. to. go. I'm so excited!!
Whoa. So we covered a lot in January. Here's to hoping for even more next month!